We are committed to delivering the TOP DOLLAR for your used cars throughout Ontario.
Brampton Chrysler has a team of automobile specialists with access to cutting-edge technology that analyzes pre-owned cars and provides the best estimated used car value. Be it a sedan, coupe, SUV, minivan, or truck, we buy vehicles of all types, makes, and models. Our clients receive only the best car appraisal value and nothing short of it.
We understand that money matters. That's why our trade-in value estimate process is super quick. Within minutes, we prepare the quote for our clients and offer the best price right on the spot without any delay. The client can leave the car with us as soon as the deal is done.
Our buying process is simple, hassle-free, and satisfying to receive the top dollar so that our customers' car-selling experience remains the best.
GET TOP DOLLAR RIGHT ON THE SPOT
Are you looking for the best trade-in value on your car? Look no further! We buy cars by offering the best cash amount for your vehicle. Right in your hand as a check!
ALL CARS ACCEPTED, UNCONDITIONALLY
No matter how old your car is or whatever model or make it is, if it works, we buy it. You will always find the best price for your vehicle without any hassle.
QUICK, FAST, TECHNOLOGY ORIENTED DEAL
Our fully technology-oriented work accurately assesses your vehicle's true worth. Our technology gets updated hourly to ensure our clients get the best deals and make the most money on their cars without any hindrances or hook-ups.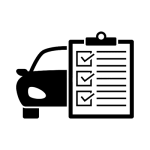 NO BARGAINING DEAL AND FREE PICK-UP
We offer excellent prices for your vehicle that are just and fair, so you don't have to go through stressful bargaining. Also, our licensed professional will pick up your car stationed anywhere in Ontario if you cannot bring it yourself.
Simple Steps To Get Top Dollar
Information About Vehicle: You can send us the vehicle's year, make, and model. We request you to enter your VIN to get a more accurate valuation.
Get a Quote: To save valuable time for our clients, we offer them a fantastic car value estimate in less than one minute.
Schedule Appointment: We schedule your appointment with our advisor at a convenient time. You can come to us, or we can come to you.
Get Top Dollar on the Spot: Once the quote is finalized, we will immediately cut you a check for top dollar during the appointment.
Happy Hours: Congratulations, the deal is done! You can now enjoy extra money right into your pocket today.
Frequently Asked Questions
What factors influence the trade-in value of my vehicle?
The trade-in value of a car is influenced by multiple factors such as its make, model, age, mileage, condition, features, and the demand for that specific vehicle.
Can I get an accurate trade-in value using online tools?
Based on general market data, online tools can roughly estimate your vehicle's trade-in value. However, you can always visit Brampton Chrysler for an in-person inspection and assessment.
How can I increase the trade-in value of my car?
By maintaining your vehicle in good condition, addressing any cosmetic imperfections like dents and scratches, having a comprehensive service history, and ensuring all features are functioning correctly, you can boost the trade-in value of your car.